Hi. I'm Sandy. And help frazzled moms find peace.
I've been writing, teaching, and speaking about balance since 2008.
I'm no balance expert. On the contrary, I embody a lifelong balance struggle. I carry a constant tension between frazzle and faith. I'm obsessed with my time and energy–how to manage them, how to use them wisely, how to keep them from slipping through my fingers.
For me, the line separating productivity from overwhelm is so thin that I scarcely recognize when I've crossed it.
Before I show up to the microphone or the computer screen, I've already wrestled Big Bad Balance Giants (yes, they are real). I've scoured the Holy Scriptures seeking solace. I've scribbled pages and pages of journal entries. I've worn the carpet beneath my knees.
Then I stand up, tuck the stray hairs into my messy bun, and present to the world what I've learned (all spit-shined and spotless) in the form of a podcast episode or a blog post or a book.
After hitting publish and feeling all good about myself, I look down at my to-do list and proceed to freak-the-freak out because I didn't get that one other thing done that I meant to get done today and I skipped my workout and I'm late picking up my daughter from school and I forgot to switch the laundry…
Welcome to
Behind the Balance
:
Where I pull back the curtain on a lifelong struggle with balance and my ongoing process of re-finding it.
Let's talk about what you get when you subscribe:
PAID subscribers ($5 monthly or $50 annually) get
full access to all issues–including special Behind the Balance essays

my popular "An Update Told with Pictures from My iPhone" emails

Q & A sessions with me

comment threads where we can all get together and talk balance

full access to the archive, which will eventually include essays from 2008 to the present, and will no longer be available anywhere else on the internet. (Quick, go to the blog now and copy them for free. They'll be worth money someday soon!)
ALL subscribers, paid or free, will get access to my full podcast directory by TOPIC (200+ episodes), plus you'll usually get one email a week (for now; this may change to monthly) announcing the latest on the podcasts. I will occasionally drop a bonus essay for the free subscribers. The podcasts are still free and will remain free.
A little more about me:
I am the author of three books: two Bible studies and one collection of essays on motherhood. I host The Balanced MomCast, a weekly podcast for overwhelmed Christian moms. I am the co-founder of Writing Off Social, where my friend Mary K Tiller and I help female Christian writers grow and nurture their audience without social media. Aaaaand, I cohost a second podcast called Writing Off Social: The Podcast.
I'm a wife of 30 years to Jon. Mom to four kids—two adopted, two bio. Noah is in heaven. Rebekah, Elijah, and Elliana are young adults/teens. (I stopped writing their ages on my bio because time goes too quickly and I'm weary of continually updating my bio with their current ages.)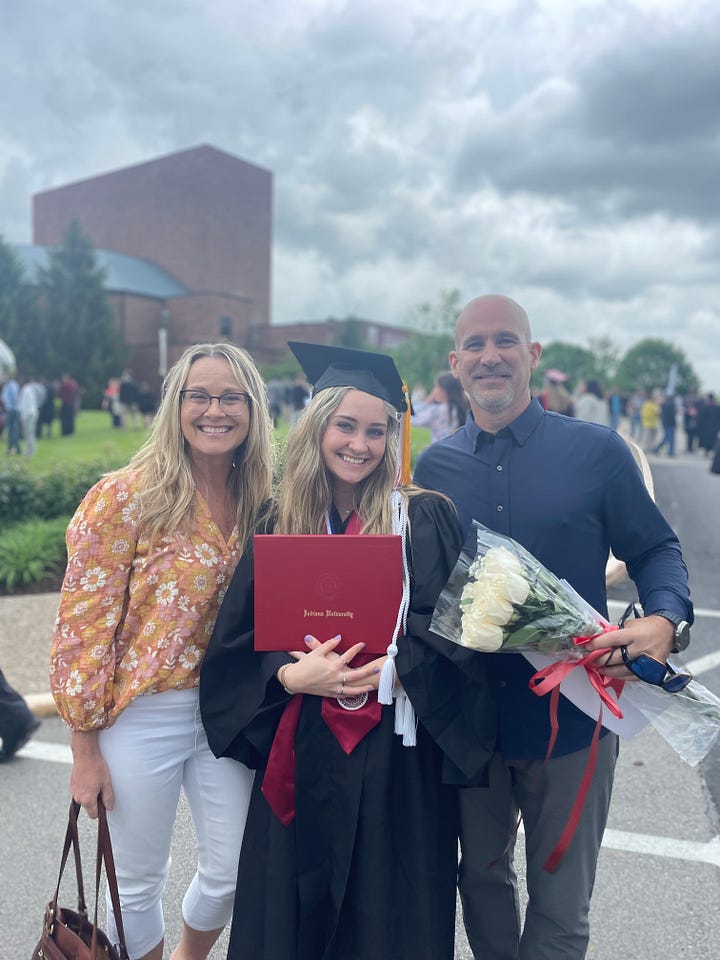 I was born and raised in the Midwest, in a Christian home, the youngest of seven kids. I was (am!) a weird combo of rule-follower and rebel, and thusly, made a ton of unwise decisions in my teens that fell under the radar (I'm so sorry, Mom). The summer before I started college, I experienced an epically dramatic conversion, fell madly in love with Jesus, and have been hanging onto Him for dear life ever since.
As newly(ish)weds, Jon and I left our childhood hometown and moved to Jacksonville, FL where we saved our fragile marriage, had our first three babies…and buried one of them.
After eight years, we moved to Louisville, KY ("just for a little while," Jon said). Sixteen years later, at the height of the pandemic, we moved back to Jacksonville FL, 90% motivated by my love for the ocean and 10% motivated by a job opportunity for Jon. Speaking of percentages, there is a 0% chance I'm leaving the ocean again without a serious fight.
For fun, I like to cook. So, a few years ago I did a bucket list thing and earned a professional culinary certification for plant-based cooking.
So you're a vegan, then?
Yep. In 2018, in what started as a 30-day experiment to address some health concerns, I ate a whole-food plant-based diet. But, after looking at all my before and after "numbers," my doctor said, and I quote: "Your body loves this. Do more of whatever you're doing."
So I did and I do. It is one of the primary ways I successfully manage depression and anxiety.
Everyone gets nervous eating around me, but I promise I don't care that you ordered a hamburger. But if you need a good pasta or soup recipe? I'm your girl.

Subscribe to Behind the Balance
People
Sandy Cooper
Sandy Cooper is the author of three books, a podcaster, and a professionally certified home chef. She podcasts weekly at The Balanced MomCast and Writing Off Social from her home office in Florida, where she lives with her family.